Armed Forces Academy
SRI GURU TEG BAHADUR ARMED FORCES &ALIED SERVICES PREPRATORY ACADAMY
Sri Guru Teg Bahadur Armed Forces & Allied Services Preparatory Academy was started on 16 NOV 2018 on THE GOLDEN JUBLEE YEAR of the college. The Academy was inaugurated by Col B.P.S Thakur Commanding Officer 23 PB BN in SRI GURU TEG BAHADUR KHALSA COLLEGE at Sri Anandpur Sahib. The academy has been established to cater the development of the qualities of leadership with emphasis on character building and discipline among its students. In which special emphasis is laid to prepare the students for entry to Armed Forces for that extra coaching is held in the every academic session and even some crash courses in summer or winter vacation.
MOTTO
To create human resource of organised trained and motivated youth to provide leadership in walks of life including the ARMED FORCES and be always available for the service of the Nation
The preparation of below mention Exams and ground training is available in campus
Combined Defence services Exam(CDSE).
I.T.B.P,CISF,B.S.F,C.R.P.F and other paramilitary forces.
Civil Services(PPSC).
S.S.B(SERVICE SELECTION BOARD).

It Includes sample of
PSYCHOLIGICAL TEST
GTO(OBSTACLE ARE AVAILABLE IN THE CAMPUS)
PERSONAL INTERVIEW
Guest Lecture By Various Defence Person and Civil Servants

Physical training for GD Recruitment in Defence Forces or State Police .
The dedicated and hardworking team of teacher is specially attached with the academy. In which they conduct special Classes for competitive exams. The below given topics has been covered-
1.General Knowledge
2.English(According to the sly bus of exam)
3.Maths (Quantitative aptitude)
4.Computer and its skills
5.Reasoning
TIME TABLE OF THE CLASSES
All classes are being held in evening session from 3 pm to 5pm in working days. (Mon to Sat)
S.No
Name of the Teacher
Department
Subjects
1.
Prof Sandeep kumar
Defence and Strategic Studies
G.K, Reasoning, International Relation, National Security ,Current Affairs, Personality Development
2.
Prof Dilsherbir Singh
English
General English, Vocabulary,Grammar
3.
Dr.Darpan Sood
Mathematics
Quantitative aptitude
4.
Prof Parwinder Kaur
English
Reading Comprehension Verbal Ability, Communication Skills
5.
Prof Paramjit Kaur
Computer Science
Basics of Hardware and Software,
Windows Operating System Basics
Internet Terms and Services,
Basic Functionalities of MS-Office (MS-Word, MS-Excel, MS-PowerPoint),
History of Computers
● Special attention on communication skills and Interview preparation.
● Facilities provided to students for training
1.Lecture hall with the strength of 500 students.
2.Library which contains more than 1000 books for competitive exam
3.GLIMPSE OF THE OBSTACLE COURSE OF ACADEMY IN THE CAMPUS
Other Infrastructure Available –
● Air Conditioned conference hall with capacity of 300 students
● Smart Classes.
● Computer labs for online tests.
● Language lab for good communication skills

Success Rate
Before initiating this academy the Department of Defence and Strategic Studies and Ncc has Guided and trained so many students out of them nearly 74 students has joined(Army, Navy And Air force) in GD Entry.
REQUIREMENT OF THE ACADEMY
(190 villages in this tehsil according to goi, 2011 census report)
Anandpur Sahib is the most Populous town of the district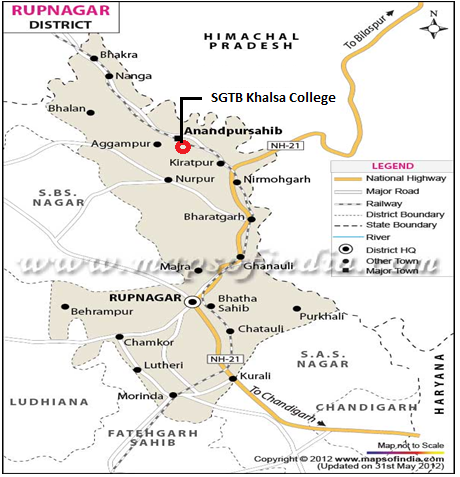 Campus is serving in this area since 1968.College is running many Under Graduate and Post Graduate Courses ,4 vocational courses and Diploma's. The existing Strength of the college is 3000 apx. In which students belongs to rural area or more the 70 percent students are from minority. Student does have the capacity and calibre to do something better but due to their economic condition and lack of resources many times they got fail to achieve the career. There for campus took the initiative to construct an academy for the students who cannot afford the costly charges of the private institutes. Other motive is to provide young dynamic commissioned officers to the nation.